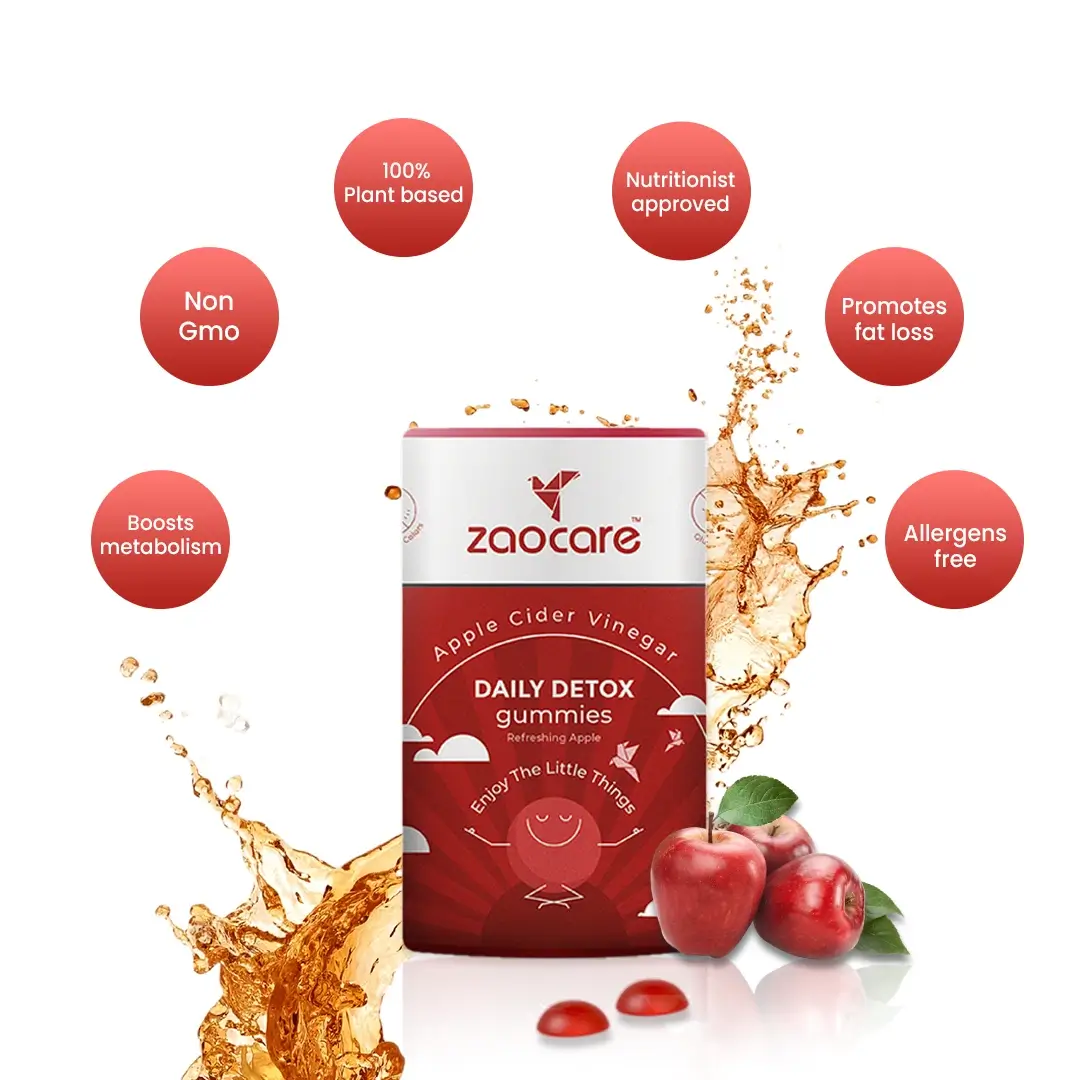 Why Choose Zaocare Daily Detox Gummies?
Sweet Solution: Love apple cider vinegar's benefits, but not the taste? These gummies bring you the best of both worlds!
Appetite Aid: Tackle weight management by curbing your appetite and feeling satisfied with controlled eating.
Metabolism Booster: Energize your metabolism for a healthier, more active lifestyle.
Gut & Glow: Promote gut health, fight inflammation, and enhance your skin's radiance.
Step into a healthier journey with Zaocare Daily Detox Gummies – where health meets deliciousness!
Benefits of Daily Detox Gummies
Discover a healthier you with Zaocare's Daily Detox Gummies! These gummies help trim body fat, enhance metabolism, and promote fullness. Enjoy detox benefits, improved gut health, and reduced inflammation. Strengthen your immune system, stabilize blood sugar, and reveal radiant skin.


Helps Detox and Cleanse the Body


Stabilizes blood sugar level
Improves Gut Health & Digestion
Result
1st Month: Improves Metabolism
The Apple Cider Vinegar with Vitamin B6 gives you a boost in reaching your weight loss objectives. It helps with water retention and accelerates your body's metabolic processes for adequate nutrient absorption and food digestion. This helps your body to use fat as energy rather than holding it. It consequently encourages quicker weight loss and higher energy levels throughout the body.
2nd & 3rd Month: Reduced Bloating
Better digestion and less bloating are noticeable as early as the first month. In this manner, you can enjoy your favorite foods without being concerned about how well they will be digested by your body. Acidity and indigestion are no longer something that you or your stomach need to worry about. One shot of apple cider vinegar (ACV) is added to each gummy, which enhances digestion and avoids gastritis by raising stomach acid levels.
3rd & 4th Month: Visible Inches loss!
A controlled appetite and a higher metabolic rate will start to show results by the third month. You may work your way to a stronger, thinner, and fitter version of yourself with the help of our natural ingredients.
How To Use
Chew and Enjoy: Take one gummy, chew it completely, and swallow.

Limit Wisely: Stick to 1 gummy within 24 hours to stay on track.

After Eating: For optimal absorption, have 1 gummy after a meal.
3 reviews for
Zaocare Daily Detox Gummies
---

02 Customer(s) recommended this item
Reviewed by 03 customer(s)
Taste is good

The product is very good and helpful. I was having a problem of not sleeping the whole night but now this problem is resolved up to a great extent. Thanks Zaocare.

worth to buy.

These delicious gummies offer weight management support, improved digestion, and a range of health benefits in a convenient and tasty form.

I purchased the gummies 3 weeks ago and using it. The good part is it tastes so delicious and it's very effective.